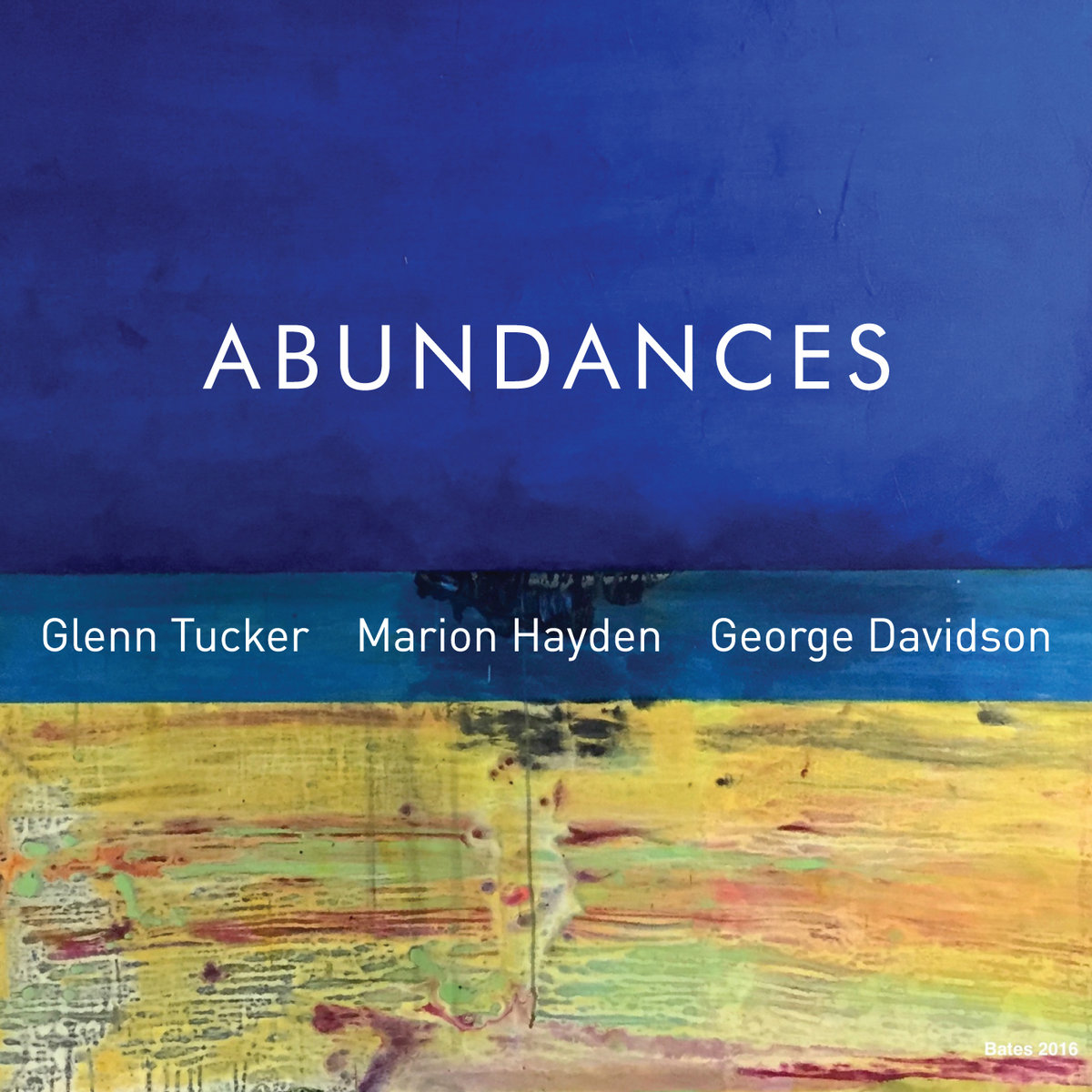 Abundances
Glenn Tucker Poly Fold
Currently, there are many young jazz musicians in Detroit making a name for themselves. Detroit has a rich jazz tradition, and the young players are doing an admirable job of keeping that tradition going. My personal favorite is pianist Glenn Tucker, a graduate of the University of Michigan. To date, Tucker has three terrific albums available, the newest being "Abundances". The album is comprised of nine originals and one oldie but goodie, and the album shows Tucker has grown considerably as a session leader and a composer. You can hear a lot of history in his playing, and he swings harder than a hypnotist timepiece. Tucker is in sound company with bassist Marion Hayden and drummer George Davidson.
Compassion
Dave Liebman and Joe Lovano Resonance Records
Dave Liebman and Joe Lovano are two of the greatest saxophonist working these days. For "Compassion," a wonderful sort of love letter if you will to the iconic saxophonist John Coltrane, Liebman and Lovano pooled their chops. "Compassion" is one of the finest Coltrane tribute album ever recorded. Liebman and Lovano appeared to be possessed by Coltrane's spirit throughout this session, blowing new life into some of Coltrane's signature tunes such as "Equinox," "Reverend King," and "Central Park West/Dear Lord.
Sean Jones

Live

From Jazz at the Bistro
Sean Jones Mack Avenue Records
This recording is trumpeter Sean Jones' first live date, and it shows Jones and his longstanding band drummer Obed

Calvarie

, saxophonist Brian Hogans, pianist Orrin Evans, and bassist Luques Curtis in excellent form. For my money, this is the tightest unit in jazz currently. If you demand proof check out "Art's Variable,"

"The Ungentrified Blues," and "BJ's Tune". If you aren't convinced after listening to those cuts, something might be wrong with your ears.
Dreams and Daggers
Cecile McLorin Salvant Mack Avenue Record
Wonder if jazz vocalist Cecile McLorin Salvant has set some sort of jazz record. She's put out three albums in her still young career and each has been nominated for a Grammy. The latest is "Dreams and Daggers," a perfectly wrought live two-disc recording with Salvant alternating between two

award-winning

jazz pianists her longstanding musical director Aaron Diehl and Sullivan Fortner. This is a flawless outing with Salvant's voice covering you like a warm blanket on each track.
Radio Flyer
JD Allen Savant Records
Tenor saxophonist JD Allen has been on a roll populating the planet with a new release yearly for the past decade. Allen new offspring is a fine album of original compositions "Radio Flyer". Allen like to stick with what works running with bassist Gregg August and drummer Rudy Royston. Here Allen added guitarist Liberty Ellman. In the past, when Allen has included a new player to the mix, the player seemed out of place. On "Radio Flyer, "however, Ellman fits comfortably. It appears throughout this excellent date Allen

made

the album as a showcase for Ellman's chops.
Bringin' it
Christian McBride Big Band Mack Avenue Records
At some point soon, a conversation should be had if jazz bassist Christian McBride owns the best jazz big band around. Some industry insiders think so because "Bringin' It "has garnered the big band its second Grammy nod. That aside, "Bringin' It" is a wonderful album with the band getting buck ass wild on numbers such as "Thermo," "Full House," "Mr. Bojangles," and "Used 'Ta Could".
That Feelin'
Mike Ledonne the Groover Quartet with Vincent Herring Savant Records
It's almost impossible to make less than an extraordinary album with a band that includes saxophonist Eric Alexander, drummer Joe Farnsworth, guitarist Peter Bernstein, and with the incomparable organist Mike Ledonne in the driver's seat. This is one of those grooving high jazz albums that will give your spirit

goosebumps

.
In
the Moment
Johnny O'Neal Smoke Session Records
Jazz pianist Johnny O'Neal is a star on New York's jazz scene, and at this stage of his hall of fame

career,

O'Neal is making some of his best music. "In the Moment" is his new masterwork and it proves track after track his chops are still in mint condition. The album has a whopping 16 tracks with O'Neal singing and swinging like hell, and there's some fine trumpet work by the great Roy Hargrove.
To Love and Be Loved
Harold Mabern Smoke Session Records
At 81 jazz

pianist,

Harold Mabern still plays the piano as if he has four hands. "To Love and Be Loved" is the kind of no-holds-barred jazz album Mabern has been making for decades. Each number on the album is infused with Mabern's youthful exuberance. And some of his sidemen bassist Nat Reeves, trumpeter Freddie Hendrix, and saxophonist Eric Alexander behave as if they're happy as fuck to be swinging with the old guy.
Cerulean Canvas
Sherman Irby & Momentum Black Warrior Records
Saxophonist Sherman Irby is best known as the lead alto chair for the famed Jazz at Lincoln Center Orchestra. Sherman moonlights as a session leader, and Irby has eight stellar jazz albums on the market. Irby's newest "Cerulean Canvas" may rank among his finest, showing Irby is in the same league as alto greats such as Johnny Hodges and Cannonball Adderley. There's some wonderful playing by pianist Eric Reed and trumpeter Wynton Marsalis. The cuts on "Cerulean Canvas" most likely to stick to your ribs are "Blues for Poppa Reed," John Bishop Blues," and "Smile Please".