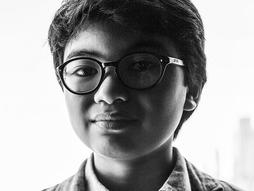 Pianist Joey Alexander
As his story goes, pianist Joey Alexander started teaching himself to play jazz at age six. At age 10, Alexander caught the attention of trumpeter Wynton Marsalis, and Marsalis hired him for a few concerts as a guest soloist with the prestigious Jazz at Lincoln Center Orchestra. Alexander is 14 now. He's cut three jazz albums "My Favorite Things," "Countdown," and the recently released "Joey. Monk. Live!".
Alexander has
been featured on 60 Minutes and in reputable music magazines such as Rolling Stone and JazzTimes. Besides the media hype, Alexander has earned three Grammy nods, and he's currently busy touring the globe.
Alexander's opening set Friday event at the 2017-2018 Paradise Jazz Series at Detroit's Orchestra Hall was more proof the praise lavished on him in his very short career has been well-deserved.
Alexander is what mystics the world over regard as an old soul possessing a young person's body. I've attended the Paradise Jazz Series for 20 years now and never have I experienced a crowd roar like they roared after Alexander's solos.
The concert was a double-bill with drummer/vocalist Jamison Ross opening for Alexander. Ross, best known as an
A-list
sideman for such jazz notables as Johnathan Batiste, Carmen Lundy, and Christian McBride, stretched out on a number of his originals and got the crowd oiled up for Alexander's hour-plus rundown of familiar standards and some of his original compositions. Alexander
open
ed with Thelonious Monk's "Evidence," immediately demonstrating an elder's command of the piano and a deep improvisational wit.
Next Alexander and his bandmates, drummer Ulysses Owens Jr., and bassist Dan Chmielinski cooked on a
tricked-out
version of "My Favorite Things." The depth of Alexander's chops and imagination were fully exposed on his originals "Peace," and "Fourteen". And when Alexander soloed on "Countdown," he played some of the solo standing on his tiptoes.
Alexander divvied up the spotlight with Owns and Chmielinski. Both have more frequent flier miles as professional jazz musicians than Alexander. They served up one marvelous solo after the next, but at times Owns seemed to be dangerously
close
to overpowering Alexander.
Alexander has some areas of his game begging for improvement. He doesn't seem comfortable talking to an audience, but surely that will
change
as he matures as a bandleader.
It'll be interesting to see where Alexander will end up musically as an adult. The audience left his concert Friday evening knowing they'd witnessed a legit jazz musician although he isn't old enough yet to have a driver's permit.