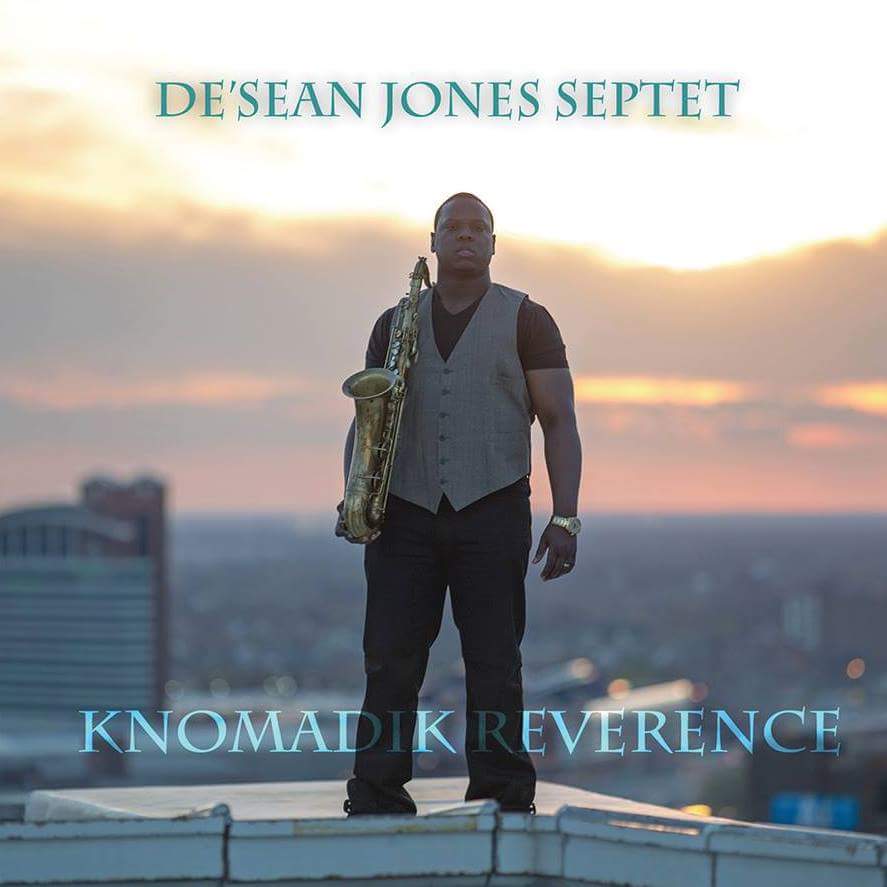 The saxophonist De'Sean, 27, is like many jazz musicians of this generation such as bassist Ben Williams, pianist Gerald Clayton, trumpeter Christian Scott, and vocalist Esperanza Spalding. They refuse to be typecast. They are influenced by hip-hop, gospel, rock, neo-soul, and techno, and the musicians mix those genres with jazz. Jones's debut album
Kn
omadik
Reverence
on Detroit Music Factory is an example of the fusion a growing number of musicians in Jones's age demographic are into.
Knomadik Reverence
is
a hybrid of jazz, techno, and elements of rock demand that listeners be open-minded.
Jones, a native Detroiter, received invaluable on the job training from jazz greats bassist Rodney Whitaker and the trumpeter Marcus Belgrave. Jones has also worked with the Gerald Wilson Orchestra, and Underground Resistance, a techno band Jones toured internationally with. Since 2011, Jones has been building a brand wit his band Knomadik. The saxophonist took some quality time to answer questions about
Knomadik Reverence
, and to talk about his evolution as a musician.
Explain the album's title?
The title of my album is directly inspired by my spiritual beliefs, life experiences and my band Knomadik, which I formed in Chicago around 2011 while on a music outreach tour. As a musician, I've definitely had a nomadic lifestyle, traveling extensively, engaging with different cultures and styles of music the world over. After a while elements of those experiences, and perspectives tend to stick with you.
What I've realized is that we all borrow from one another in some way, and that's what I wanted my music to reflect. The life of a musician is both beautiful and extremely challenging, so when I fully committed to the lifestyle of an artist I had to have faith that things will work out in my favor.
In life, nothing is promised, and I accept that which is why I place my complete trust in God. Knomadik Reverence is just a brief summary of what I had experienced in life up to that point.
What inspired Knomadik Reverence?
At the time, I started composing this music I was going through many changes in my adult life. I was in my early 20's, raising a family, trying to get through school, and still actively touring with Marcus Belgrave and Detroit Techno legends Underground Resistance Mike Banks and Jon Dixon. I was in desperate need of an outlet and of course, I channeled all those thoughts and emotions into my compositions.
Ultimately, what proved to be my muses were these three to five-hour trips on the Greyhound from one gig to the next. I guess it gave me the time necessary to sort through my ideas. Frankly, there was nothing else better to do on a Greyhound anyway.
If a layman pressed you about the music on this album, how would you describe the music?
I would definitely say this album possesses high energy and compositions pulling from a wide range of styles gospel jazz, hip-hop, and rock. Ultimately, I think this music is best served live because there is an element of the unexpected that also comes with this kind of musical presentation. The element of surprise is something I think many people can definitely appreciate.
You started out playing straight-ahead acoustic jazz when and why did you transition into jazz fusion?
Well, one of the great misconceptions about me early on was that I was strictly a jazz saxophonist. My first love musically came from the church, and that has always been the heaviest influence on me musically. Unfortunately as a saxophonist, that particular instrument is so unconventional within the gospel idiom that you have to find other outlets.
Ultimately, I believe there was a divine purpose for me to being, 14, and being mentored by the likes of Marcus Belgrave or Rodney Whitaker, and Roger Jones, who is a phenomenal gospel / jazz keyboard/organist and composer.
My
desire was always to be as well rounded a musician as possible. So I would never limit myself to being a specific type of player because in the end that's dishonest to all the music that has influenced me over the years.
When you really think about it, it's hard to imagine anyone from the city of Detroit only playing one style of music when we have such a deep and rich history of Motown, gospel, rock, jazz, and techno.
Have you received any flak for not staying with straight-ahead jazz given you studied with greats like Rodney Whitaker and Marcus Belgrave?
To be honest with you I have no idea if people disagree with my musical choices, and even if I did, I wouldn't care because the notion of sticking with one style of music is laughable. It's 2015 people!
I find it hard to believe that people even still think like that nowadays. Marcus Belgrave, Rodney Whitaker, Lawrence Williams, and even Donald Walden never pushed me to be a jazz, musician. They only pushed me to reach my full potential, which is what I am continuously striving towards.
De'Sean Jones
Some of your peers have used crowd funding to fund their debut albums. Why did you go the conventional route?
This industry has truly turned into a DIY business. So, with the emergence of crowd funding and various ways to produce and distribute your music independently, it only makes sense for all of us to consider that as a viable option.
The only reason I went this route with a label was the opportunity presented itself. I'm very thankful to Gretchen Valade and the Mack Avenue family for even considering signing me because there are so many talented artists out there they could have easily signed and released a project with.
I feel extremely fortunate to have this opportunity, and I recognize there is a responsibility on my shoulders to remain focused, continue to push music I believe in, and represent the city of Detroit.
To date, Knomadik Reverence is the most experimental album Detroit Music Factory has released.
How tough was it convincing the label to make this album?
There was no convincing at all, and the initial response was extremely positive when they heard the project. I think the label and people, in general, are just eager for many different kinds of music that's exciting, and still has something of a soulful resonance to it. Hopefully, when people check the album out, they will enjoy the experience.
At 27, you are one of the youngest jazz musicians signed to the label. Do you view yourself as sort of a catalyst for Detroit jazz musicians of your generation to test-drive the label?
I do not take this opportunity or my position within this opportunity for granted. Whenever I'm on tour, I always tell people I come from a "Pride of Lions," and right now, the torch has been passed by the late great Marcus Belgrave. He was the voice of our community, and he was truly like a father to so many of the artists in the Detroit community.
All the greats before me and my generation have laid down and incredible musical legacy and foundation for people like myself, Marcus Elliot, Ian Finkelstein, Alex White, Jon Dixon, Ollice "Olle Keys" Cooper, Angela Davis, and a host of others to come out and really take the world by storm.
We are standing in the shadows of giants and there's a lot of work to be done, but I am proud and honored to be a part of that legacy and to be a part of the continuum of music being released from the city of Detroit.