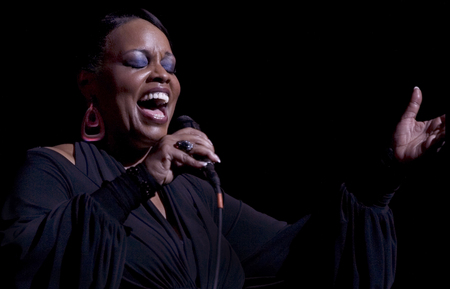 Dianne Reeves
Guitarist/songwriter Raul Midon was billed as a special guest at the second concert of the University Music Society's Jazz Series Saturday evening at Hill Auditorium in Ann Arbor, MI. Midon was hired to heat up the stage for jazz singer Dianne Reeves. But Midon pimped the stage as if it was his bitch, and the audience ate it up.
Midon, a native of New Mexico who's been blind since birth has five albums on the market, and he's been touring with Reeves.
Midon was escorted on stage and put in front of a mic where he shocked the audience for twenty plus minutes, working out on cuts from his 2010 album "Synthesis". Midon told the packed auditorium after the opening number there wasn't any technology on the stage just human technology. Then Midon played the guitar and bongos at the same time, and made his voice sound like a trumpet. Midon has a good voice, and he can switch from falsetto to baritone.
I gathered it was the first time most of the audience had experienced Midon. He set the bar high for Reeves. Reeves, one of the top jazz singers around, is having a hall of fame career. But, her live shows are hit or miss. Reeves like to end her tours in her hometown. I've caught three, and sometimes she seemed bushed. She's never really gone for broke.
Saturday, Reeves' gorgeous voice was in top condition, but her set didn't have
any memorable highlights. Reeves played it safe singing mostly well-known songs such as "Stormy Weather," and "Misty". And there was a lot of scatting which Reeves is a pro at. In fact, no Dianne Reeves show would be complete without her scatting up a storm.
Reeves has one of the toughest bands on earth piano player Peter Martin, guitarist Romero Lubambo, bass player Reginald Veal, and drummer Terreon Gully. And she got good use from them. When Martin and Reeves did a duet on "Misty," I was reminded of the truism that a jazz singer is only as good as her piano player.
Martin is a complete package, and I wondered if Reeves could get along without him. Reeves set wasn't packed with highlights, and obviously she didn't put a lot of thought into the set list. Honestly, people attend her shows to hear one of the top jazz voices around not to see a spectacle.