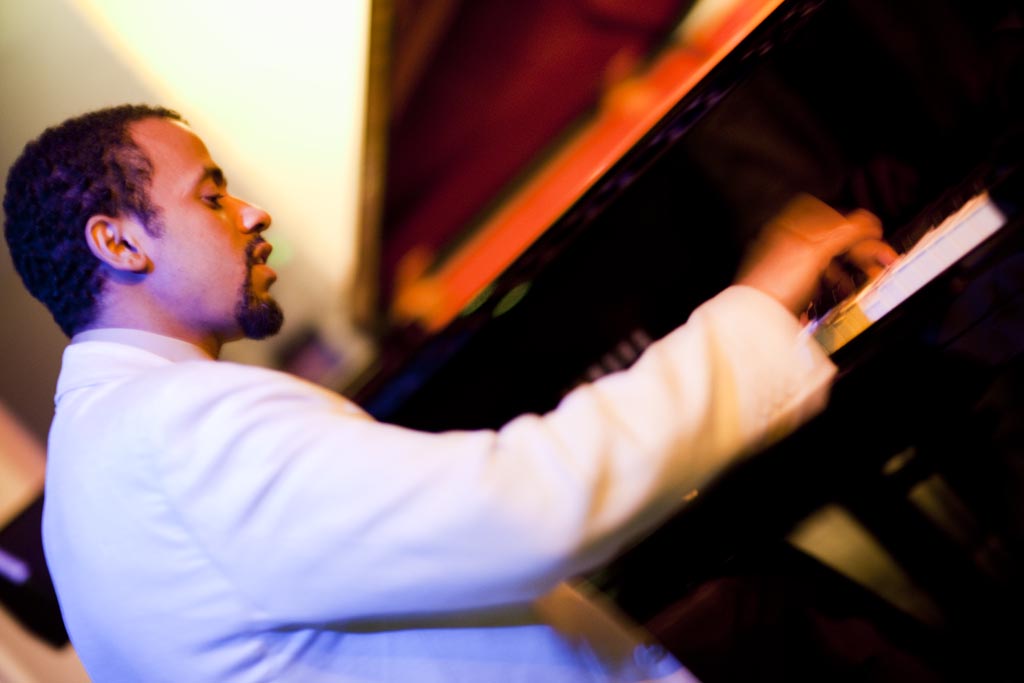 Pianist Mike Jellick
I am Charles L. Latimer. I'm a jazz reporter and jazz blogger. I want to take a minute of your time to tell you about an outstanding show I caught Friday night at the Detroit Institute of the Arts. The jazz piano player and arranger Mike Jellick put on the show. Jellick is, 32, and in the past two years has become the top jazz piano player in the state of Michigan.
Funny thing, Mr. Tchaikovsky, is five years ago Jellick couldn't play worth a damn. He had a hard time making a living. Eventually, Jellick became frustrated because he couldn't get steady work. So he moved to Chicago. Jellick always showed promise. Plus, he had a colorful and a fertile imagination. But he lacked the chops to pull off all the slick musical ideas swimming in his head. Being in Chicago did him a world of good.
In Chicago, Jellick practiced for two years. He soaked up Chicago's jazz scene. Then he returned to Detroit anew. It didn't take long for him to become a first-call commodity. Friday night, Jellick and his quintet—drummer Jesse Kramer, bass player Miles Brown, saxophone player Marcus Elliot, and singer Kira Frabotta and special guest trumpeter Chris Johnson--presented an ambitious work that took Jellick two years to perfect.
Jellick reworked your yuletide masterpiece "The Nutcracker Suite". Not that it needed reworking. Jellick wanted to put his spin on it, and boy did he ever. Given the positive response from the standing-room-only crowd Jellick's reworking of the suite was a hit. What did Jellick do to your work you wonder.
Jellick took "The Nutcracker Suite" apart note by note, applied a few new coats of paint on some notes, and added a number of tempo and mood changes. He retooled the suite like an auto mechanic retools an engine of a priceless car. Jellick didn't borrow from any of the other arrangers who rearranged "The Nutcracker Suite," including the great Duke Ellington.
Borrowing from others wouldn't have been a challenge for Jellick. Jellick's take was solely the product of his imagination. Of course, the show wouldn't have been a hit without the participation of Jellick's world-class band.
Miles Brown was sweet. He walked the bass all night long like one of Santa's reindeers. Kira Frabotta turned her voice into an instrument. Marcus Elliot proved he's one of the leading tenor players of his generation.
He's a youngster who's invested plenty man-hours studying the greats of the tenor sax.
Jesse Kramer was a textbook example of how tasteful a drummer should be. He knows the chief task of a jazz drummer is powering a band, and Chris Johnson fit like candles on a kid's birthday cake.
Jellick was the consummate leader. Mr. Tchaikovsky, I bet a month's pay you would've loved his playing. And you might've been a tad jealous. Damn, I wish I had played the section of the suite that way you might've said to yourself.
The best part of the show was Jellick's solo version of "A Christmas Song," which received the first of three ovations. Mr. Tchaikovsky, I don't have enough fingers and toes to count the number of people I overheard say Jellick's show was the best they attended this year.
Jellick is performing the suite again tonight at Cliff Bell's in downtown Detroit. If you aren't doing anything you should check it out.