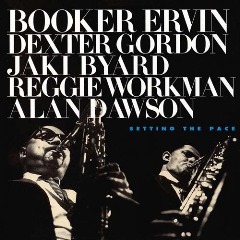 O
ver the holiday weekend, Booker, I listened to your albums
The Freedom Book
,
The Song Book
, and
Booker & Brass.
Last night, I played
Setting the Pace
. That's one of my favorite jazz albums. Do you remember making it? You made it in Munich, Germany in 1965. Dexter Gordon played on the title cut and
Dexter's Deck
. Your longtime bandmate's Jaki Byard, Alan Dawson and Reggie Workman were in the rhythm section.
Do those details jog your memory? Man, you and Dexter showed out. Setting the Pace was the hottest sax tandem I've heard. And I've heard plenty such as the dates Gene Ammons co-led with Sonny Stitt. You and Dexter never upstaged each other. Instead, you guys took your talent and stretched it as far as it would go. Your styles are different.
Dexter had a lean tone. Dexter could jump over chord changes like a hurdler. Booker, your tone was wide like the state of Texas. You had enough horsepower to zoom through changes like a speedboat.
Booker, before the holiday, I talked with the friend, who introduced me to your recordings ten years ago. We talked about how today's jazz musicians, especially jazz saxophone players sound the same. My friend said players from the swing, bebop, hard bop, and free jazz eras strove for uniqueness.

Charlie Parker, Art Blakey and Ornette Coleman could play a few licks and right away, listeners could identify those musicians. They had their own sound.
Today's jazz musicians lack individuality, and it seems as if they learned from the same textbooks, my friend stressed. Booker, I disagree with my friend.
James Carter, Christian McBride, and Cyrus Chestnut--three current and accomplished jazz lions--are unique. Yes, many jazz musicians from the bebop, hard bop, and free jazz eras were innovators.The current generation isn't concerned with changing jazz music, which is fine. Booker what do you think?

Not every jazz musician has to be an innovator. If they play with the same level of commitment, musicianship, and creativity, you and Dexter showed on Setting the Pace that's good enough in my book.