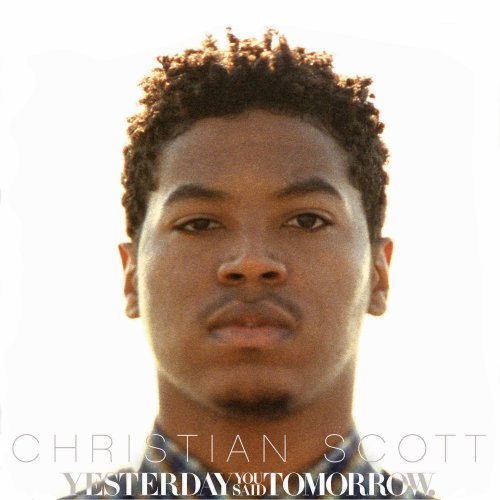 At the barbershop Thursday, I was reading a back issue of Complex magazine when Corey, a barber and a big music fan, ask if I knew you. I told Corey I saw you at the Detroit International Jazz Festival a decade ago. You're just 17 then, and a member of alto saxophonist Donald Harrison's band. You radiated a certain power and self-assurance unique to New Orleans trumpeters. Corey has a dear friend in Atlanta, Georgia with eclectic musical interest. She mailed him your latest album "Yesterday You Said Tomorrow" with a note stating he needed to give it his immediate attention, which he did. Corey explained why he can't stop playing it. Then he asked if I heard it yet.
"No. But I heard it's pretty good. What do you think about it?" I asked Corey. He was giving a high school kid wearing an oversize T-shirt and denim shorts a Mohawk hair cut, which is popular among teenagers."
"He sounds a lot like Miles Davis".
"Which Miles Davis? "
"A combination of Miles during the 50's, 60's and 70"s. Corey said turning off his clippers. He opened a brown leather CD holder and pulled out a copy of "Yesterday You Said Tomorrow," which he copied for a regular customer, but the customer never picked up.
"Here's copy of Christian's album. If you want to listen to it, you can have it," Corey said handing me a
Memorex
CD-R with the name of the album scribbled on with a green sharpie. Corey clicked the clippers back on.
"I heard a lot of good things about this album," I told Corey putting the CD in my baseball cap next to my eyeglass case and my car keys. "I never heard anyone compare him to Miles.
"Check out 'The Eraser' and '
American't
'. Those are the best songs on the album. You can really feel the Miles' influence.
KB, my barber, was ready for me. I scooped up my baseball cap, pocketed my car keys. Then I flopped down in his barber chair, instructing KB to trim down the top of my hair and taper the sides and the back. KB joked that Corey has been giving customers bootlegged copies of your album all month. If the FBI busted him, KB wouldn't put up the bail. He'd be busy interviewing barbers to replace Corey while he did time for piracy. Driving home, I played "Yesterday You Said Tomorrow". I agree with Corey somewhat. You're definitely creative like Miles was. On the muted trumpet, you sounded much like Miles did on "Kind of Blue" and "Someday My Prince Will Come." "Yesterday You Said Tomorrow" was directionless. You tried to merge too many of your musical influences.
New Orleans has produced some of the best jazz trumpeter on earth. I understand your need to try something uncharacteristic. That's okay. I also understand you wanting to pay respect to your musical heroes. I asked Ravi Coltrane why he avoids playing his dad's music. Ravi answered the best way to honor my father's music is not to emulate it. That was a powerful statement about being an individual. Christian, I'll be happy when you finally put together your own sound.
You're still young, and you have a ton of growing to do. Miles had his copycat phase I'm sure. The copycat thing is dangerous. A musician is likely to get involved.
Wynton
Marsalis
, for example, was so wrapped up into Duke Ellington's music he damn near became Ellington. The same happened to Wallace
Roney
and his idol worship of Miles Davis. Next, time I'm at the barbershop I'll tell Corey that I heard the Miles influence in "Yesterday You Said Tomorrow," but other than the title I disliked this album.