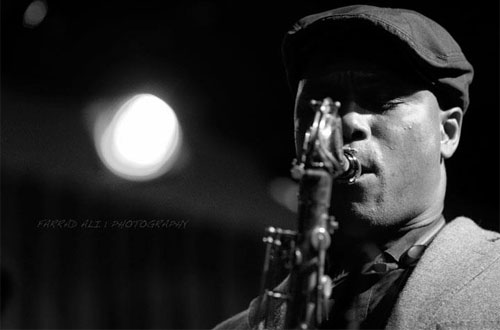 Tenor saxophonist JD Allen
J
D Allen Trio (Detroit Groove Society House Concert Series)
Tenor saxophonist and native Detroiter JD Allen closed the Detroit Groove Society concert series with two unforgettable sets of music. The concert took place in the series founder's, Andrew Rothman's, living room, and was produced by veteran jazz concert promoter Skip Norris, who could throw a memorable jazz concert in his sleep. Presently, Allen has ten albums on the market, and for the concert Allen, bassist
Gregg August
, and drummer
Jonathan Barber
– the concert's MVP – burned through material from Allen's albums "Grace," "Victory!," "Shine," and "Graffiti". The concert happened nearly a month ago, and I still wake up some nights in a cold sweat thinking about it.
Women In Jazz History Month (Kerry Town Concert House)
This concert was a celebration of Women In Jazz History Month; a poignant acknowledgement of women contributions to jazz. Pianist
Ellen Rowe
and bassist
Marion Hayden
co-led the female jazz ensemble that shifted Kerry Town Concert House off its foundation. The group delved into every happening branch of jazz such as bop, swing, modal jazz, and some blues for good measure. I left the concert wanting to organize a drive demanding this ensemble be featured at one of Detroit's popular jazz venues regularly, and Women In Jazz Month be celebrated all year.
Charlie Haden Liberation Music Orchestra (The 2015 Detroit Jazz Festival)
CHLMO was
a set I wanted to hear more than any other at the 2015 Detroit Jazz Festival. The orchestra's performance was shocking, but I wasn't disappointed. I was braced for the music the orchestra presented to be on the militant side and way angrier. Pianist and composer Carla Bley captained the ship and wrote the arrangements. The music the orchestra played was meaningful, and the soloing was passionate. I never dreamt I'd be in tears after the set ended.
Regina Carter and Kenny Barron Duo (Paradise Jazz Series)
The violinist and pianist made a Grammy-nominated album in 1991 titled "Freefall". For this duo concert, Carter and Barron revisited the music from that album. The show was flawless. Carter and Barron displayed their virtuosity on every composition. Midway through the first set, I lost count of the ovations Carter and Barron received.
Marcus Belgrave (Home Going Celebration)
The universe lost one of its most revered jazz musicians, jazz educators, mentor's, and beacon's of excellence when jazz trumpeter Marcus Belgrave died on May 24th. Belgrave's funeral was an event, a nearly three-hour jazz festival befitting an extraordinary musician and human being.
There're
breathtaking performances by many of the jazz musicians Belgrave influenced both, directly and indirectly, Robert Hurst, James Carter, Karriem Riggins, and Geri Allen had inspired moments. The music was so moving and inspired. I felt Belgrave was going to wake up and start blowing.
Brian Blade
Chucho Valdes (Michigan Theatre)
This concert by the reigning king of Afro-Cuban jazz was billed as a reunion of Irakere, a universally renowned ensemble Valdes co-founded forty years ago. The two-hour concert was a showcase for the rising young guns of Afro-Cuban jazz known as the Afro-Cuban Messengers. Apparently, Valdes drew considerable inspiration from Art Blakey's Jazz Messengers. Valdes called many staples from Irakere's repertoire, but the soloing by the young guns stuck to my ribs. The concert was a big block party. On the drive home, I wondered how many people would have to take a day off from work to recuperate from the show.
Brian Blade & The Fellowship Band (2015 Detroit Jazz Festival)
Jazz drummer Brian Blade for nearly two decades has been the heart of the Wayne Shorter Quartet, reputed as the tightest jazz band around. Blade is an animated and a quick-witted drummer who's a joy to experience. For his Saturday afternoon set at the Detroit Jazz Festival Blade's Fellowship Band pretty much played a more intensely hip version of the heady variety of swing unique to Shorter's quartet. It took Blade a few tunes to get worked up. Surprisingly, the jazz fest security didn't provide hart hats and safety goggles to be worn during Blade's set. At one stretch, Blade was drumming so powerfully, I was sure his drum kit was going to blow up at any moment.
Michigan State University Jazz Orchestra, featuring Jimmy Cobb (Carr Center)
Honestly, I attended this concert to hear legendary jazz drummer Jimmy Cobb one of the remaining hard bop drummers who played on many landmark jazz albums most notably Miles Davis's "Kind of Blue". I doubted if the MSU Jazz Orchestra could hang with the veteran drummer. Two tunes into the concert the Bebop Spartans assuaged my doubt. The Spartans brought down the house, playing with such confidence it appeared Cobb had to prove he was worthy of sharing the stage with them. Cobb only played three tunes, and he was amazing on each, but the Spartans are who I bragged about when my friends wanted details about the concert.
Kenn Cox Tribute Concert (Carr Center)
In 2008, the jazz pianist Kenn Cox died of lung Cancer. The jazz hemisphere lost one of the most elegant bebop pianists. In his native Detroit Cox was regarded as a jazz intellectual, mentor, cultural warrior, and who people wanting the lowdown on anything concerning jazz flocked to. It's a crying shame it took seven years to organize a tribute to Cox. The master of ceremony was one of Cox's protégés jazz bassist Rodney Whitaker, and the two-plus hour tribute was befitting a jazz musician of Cox's renown. Special guests were trumpeter Rayse Biggs, saxophonist Vincent Bowens, vocalists Shahida Nurullah, and Rockelle Fortin. The set list was a mix of Cox's original compositions and staples he loved performing at his live concerts. The best part of the tribute was Whitaker's Q& A with Cox's wife, Barbara, about her life with the pianist.
The Oliver Lake Organ Quartet (2015 Jazz Festival)
I was familiar with alto saxophonist Oliver Lake's reputation for having one foot in the avant-garde and the other one rooted in straight-ahead acoustic jazz, and I loved his playing as a key figure of the World Saxophone Quartet, but I never experienced Lake live. Man, did he put on a show. A blind person could see Lake designed this group around organist Jared Gold, who had his organ speaking in tongue, but the person who put some special sauce on the concert was trumpeter Freddie Hendrix, who solo after solo blew holes in the moon.