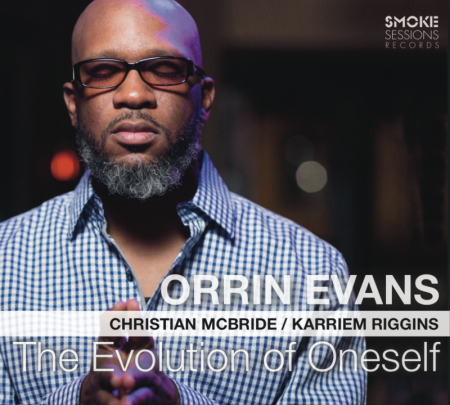 O

rrin Evans is 21 albums deep into his career. The Philadelphian is the youngest of a generation of great pianists such as Marc Cary, Jason Moran, Anthony Wonsey, Jacky Terrasson, and Cyrus Chestnut. They started recording as leaders in the 90's. Evans, 39, has a stellar body of work that dates back to that era. He recorded some gems for

Criss Cross Records

such as "Captain Black," "Justin Time," "Listen To The Album," and "Grown Folks Bizness". Of late, Evans's work has remained consistantly stellar. "Flip Script" out in 2012 rocked his

fans,

and his debut for

Smoke Session Records

"Liberation Blues" was one of the sweetest albums the popular jazz label put out last year.

"The Evolution of Oneself"

is Evans's second album for the label, and is a crowning achievement. The album was an ambitious undertaking. A perfect primer for folks new to Evans's work. For his established fan base, it reaffirmed what a wonderfully diverse musical imagination he possesses. He included, on the album, blues, R&B, neo-soul, spoken word, and even a way out free-jazz cut. On top of that, Evans has two franchise players in drummer Karriem Riggins and bassist Christian McBride. Evans's association with Riggins dates back to their arrival in New York in the early 90's. They were roommates. McBride is also a Philadelphian known to have blessed with his genius every band he's worked in. McBride and Evans have played together before, but Evans longed to team with the Grammy-winner for a substantive project. "Evolution of Oneself" proved to be the right endeavor. McBride's soloing on "Sweet Sid" will boost your metabolism. The trio has a groove driven kind of swing, evident on Evans's originals like "Spot It You Got It," "

Tsagil's

Lean," and "Professor

Farworthy

". "Wildwood Flower," which features guitarist Marvin Swell is the only cut that'll have listeners wondering what was going through Evans's head when he made it. "Wildwood Flower" is a folk song, but Evans turned it into a free jazz country-and-western number .