Christian Scott
Trumpeter Christian Scott isn't a stranger to the Detroit Jazz Festival. The native of New Orleans got a taste of the fest at age seventeen playing in alto saxophonist Donald Harrison's band. Back then, Scott was a clean cut trumpet savant, with the history of New Orleans variety of swing flowing through his trumpet. Scott is 32, now, has made eight albums as a leader and two albums as a co-leader, and he's one of the top jazz experimentalists of his generation. The music that he's been putting out the past decade is an amalgamation of jazz, hip-hop, and rock. Scott's music hasn't gone over well with many of New Orleans's elder jazz musicians. Scott goes into detail about the chastisement he's received in the liner notes to his excellent double-disc Christian a Tunde Adjuah, a recording that shows the breadth of his chops and the depth of his imagination. Scott's latest twist on jazz is called Stretch Music, which surely he'll breakdown during his set.
Christian Scott Stretch Music Monday, September 7th Wayne State University Pyramid Stage 6:15 pm-7:30 pm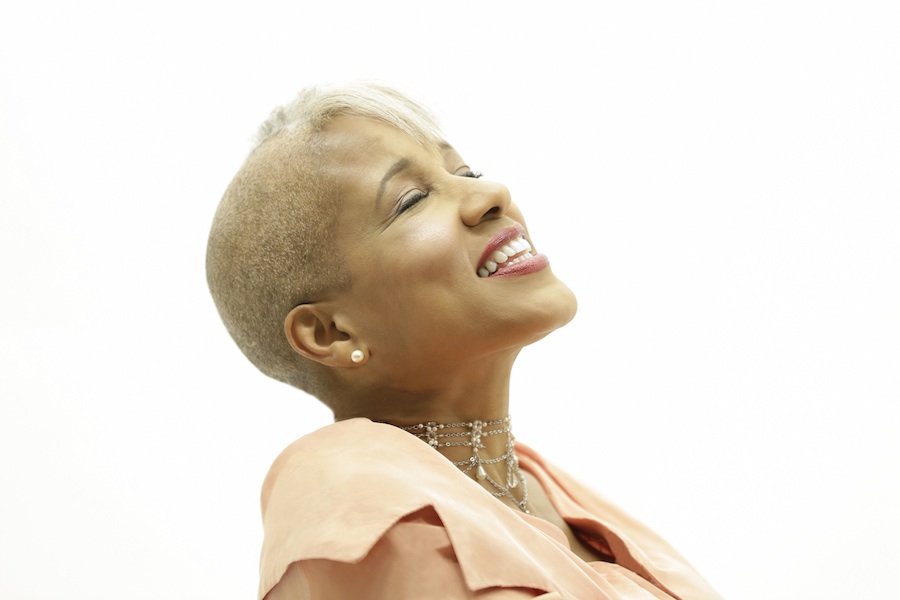 Rene Marie
Jazz vocalist Rene Marie sings Saturday evening at the Wayne State University Pyramid Stage. It marks her Detroit Jazz Festival debut, but it isn't her first time performing in Detroit. A little over a decade ago, Marie played twice at the Serengeti Ballroom in Detroit. The jazz writer for the Metrotimes caught Marie's first show, and he documented the following: Rene Marie knows how to get inside the marrow of a song. At her concert, she floats around the bandstand. She hovers over her pianist, lands next to her bass player leans her head on his shoulder while he feeds her pieces of the melody. People flock around Marie because she includes them in the performance." When that was written, Marie was beginning to build her brand. As the story goes, she'd walked away from a secure and good paying profession and jump headfirst into her passion singing jazz. Marie sings her beautiful ass off whether singing a ballad, swing, or a politically themed song. Marie's voice is in the same league as Ella Fitzgerald's and as Carmen McCrae's. Marie, 59, is a native of Warrenton, Virginia. "How Can I Keep From Singing" and "Voice of My Beautiful Country" are I Dig Jazz favorite Rene Marie albums.
Rene Marie "Experiment in Truth" Saturday, September 5th at the Wayne State Pyramid Stage 8:45 PM-10:00 PM
Rudresh Mahanthappa
Alto Saxophonist Rudresh Mahanthappa, I Dig Jazz's favorite alto saxophonist, has a fantastic album on the market titled Bird Calls. The original compositions have traces of Charlie Parker's spirit. The thing is; Mahanthappa swears up and down Bird Calls is not a Charlie Parker tribute album. Mahanthappa, 44, is a graduate of Berklee College of Music, and he gained national attention collaborating with pianist Vijay Iyer. Mahanthappa cites Parker as a significant influence. Bird Calls is one of the best jazz albums I Dig Jazz has listened to this year. Mahanthappa's band Adam O'Farrill, Matt Mitchell, Francois Moulin, and Rudy Royston will play the music from this album at the Absopure Waterfront Stage. Surely, Charlie Parker's spirit will be on the bandstand.
Rudresh Mahanthappa "Bird Calls" Saturday 5th Absopure Waterfront Stage 5:45 Pm-7:00 PM
Brian Blade
He's been the driving force behind the Wayne Shorter Quartet short of two decades. His name is Brian Blade, and he's a drummer. He's 45, hails from Shreveport, Louisiana, and his resume includes work experience with bands led by Kenny Garrett, Joshua Redman, Joni Mitchell and Bob Dylan. The best way to describe Blade's style of drumming is to think of a mad scientist mixing drummers Art Blakey's DNA with Ed Blackwell's DNA. When Blade is not and touring with Shorter's quartet, he's the CEO of his very own jazz dynasty called the Brian Blade & Fellowship Band. To date, the band has put out four albums. Landmark is the most recent. Keep your fingers crossed Blade will call cuts from Landmark in the set-list the Fellowship's performance Saturday afternoon at the JP Morgan Chase Main Stage. The Fellowship band isn't your conventional post-bop jazz band. The variety of jazz the band is into is thought-provoking, the kind of music a group of jazz musicians with the souls of intellectuals could manufacture.
Brian Blade & Fellowship Band Saturday 5:00 pm-6:15 pm at the JP Morgan Main Stage
Steve Turre
The late saxophonist Rahsaan Roland Kirk 80th birthday was August 7th. Kirk was a colorful jazz musician who could play several reed instruments simultaneously, and Kirk had a proclivity for being comical and militant. In celebration of his birthday, trombonist Steve Turre assembled the Steve Turre/ Rahsaan Roland Kirk Birthday Celebration Band. The band has been touring nationally. Saturday evening the band, which includes pianist Xavier Davis, saxophonist Vincent Herring, drummer Gerald Cannon, and bassist Dion Parson, will hold court at the JP Morgan Chase Main Stage. Turre added extra muscle to this band having saxophonist James Carter as a special guest. The Birthday Celebration Band is a dangerous group with Turre, Herring, and Carter on the frontline. It's advisable to wear a hard-hat and safety glasses during this performance.
The Steve Turre/ Rahsaan Roland Kirk Birthday Celebration Band w
/special guest James Carte
r Saturday 6:45pm-8:00 pm at the JP Morgan Chase Main Stage