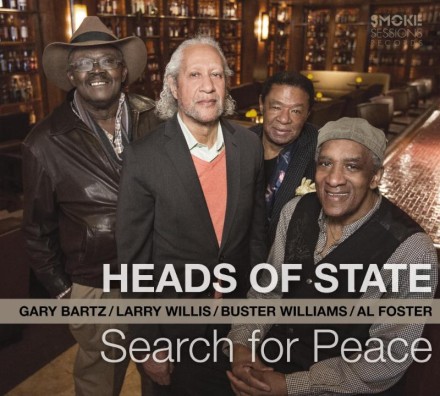 Heads Of State is a recently formed all-star jazz quartet. The members are saxophonist Gary Bartz, pianist Larry Willis, bassist Buster Williams and drummer Al Foster, four of the classiest jazz musicians working. They came together, as the story goes, last year for a one-time only engagement at New York's Smoke Jazz & Supper Club. The evening was magical, and a week after that Willis pitched keeping the band together, which Williams, Bartz, and Foster were up for.
Initially, the quartet was billed the Larry Willis All-Stars, and the quartet's first high-profile gig was a three-day concert tribute to NEA Jazz Master McCoy Tyner. Some of the compositions performed at the tribute are on this album. The quartet's name was changed to Heads OF State, and in January the quartet recorded Search for Peace, an excellent ego-less swing session, which Smoke Session Records released in July.
This quartet is tight as a banjo string. On Impressions, Uncle Bubba, Soulstice and I Wish I Knew, each member uncaged their inner-swinger. Heads Of States is a democracy. Each member is accomplished and influential. However, Bartz's chops power the quartet. His solo on Crazy She Calls Me has a celestial warmth. And on medium tempo selections there's a gentlemanly air to his blowing.
Space Time Continuum
is Aaron Diehl's follow-up to his major label debut The Bespoke Man's Narrative on Mack Avenue Records. The 27-year-old Ohioan is a refined pianist/composer a la John Lewis. Diehl gained prominence in 2012 after winning the prestigious Cole Porter Fellow in Jazz Competition.
Diehl staffed Space Time Continuum with special guests saxophonists Benny Golson, Joe Temperley, Stephen Riley, trumpeter Bruce Harris and vocalist Charenee Wade.
Wade bears a striking resemblance to Grammy-nominated jazz vocalist Cecile McLorin Salvant who's musically Diehl's kindred spirit. Wade is phenomenal, and it's unfortunate Diehl didn't carve out more showtime for her.
The nine original compositions Diel included on Space Time Continuum seem custom-tailored for his guests. Golson shows he still has genius level chops on the album's best cut Organic Consequence. Temperley, a titan of the baritone sax, put a veteran swinger's touch on The Steadfast Titan. Diehl is a jazz pianist who rarely color outside the lines, but what he does inside the lines is awesome.