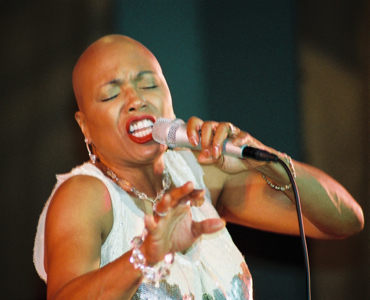 Dee Dee Bridgewater
Jazz vocalist Dee Dee Bridgewater's live shows can be R-rated at times, which her fan base enjoys because she is such a dynamic performer. Being over the top is part of her game. Friday night, at the Paradise Jazz Series in Detroit, She was tamed.
She still put on a great show due largely to the young band she works with nowadays – trumpeter Theo Croker, pianist Michael King, saxophonist Irwin Hall, bassist Eric Wheeler and drummer Kassa Overall.
Croker is the band's leader. Earlier this year, he put out a fine album titled "Afro Physicist," which Bridgewater produced. Croker runs the band, but King is its workhorse and its star. As he proved during his soloing.
He's a tasteful pianist who communes with the piano instead of banging it as if he's angry at it. Bridgewater seemed to be in heaven surrounded by all the testosterone.
She shared the bill with vocalist and guitarist Raul Midon, a one-man band. He can turn his voice into a brass instrument at will. During his set, it seemed as if an invisible trumpeter was on stage. He sang a handful of cuts from his current album. His set scored with the crowd. He loosened them up for Bridgewater.
Her set was tamed mostly. She did unlock her inner hoochie a few times, making sexual remarks about Eric Wheeler's big bass, and rubbing Midon's inner thigh when he joined the band for "A Christmas Song".
Bridgewater sang cuts from her Grammy winning "Eleanora Fagan (1915-1959) To Billie with Love from Dee Dee Bridgewater".
Her band stripped down and then applied new coats of varnish to Holiday's "Lady Sings the Blues," and "Fine and Mellow". The band's take of "God Bless the Child" was so touching it would've made Holiday weep in her grave.
The band segued nicely into a gang of Christmas songs after Bridgewater's nod to Holiday.
Bridgewater was a bit nervous when Croker put her on the spot calling Donny Hathaway's "This Christmas". It was Bridgewater's first time singing it. She sight read the lyrics and brought down the house in the process.