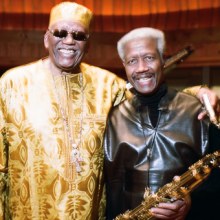 Randy Weston and Billy Harper
July was a good month. I received a bunch of excellent jazz albums, and I picked up writing drive-by album reviews. The kind of reviews that come in under 100 words. A former music editor at the Metrotimes--a weekly newspaper in Detroit where I covered jazz for 17 years--coined the name years ago. I continued using it because it fits the short reviews I enjoy writing.
Anyway, I spent the better part of July listening to new music. Saxophonist Sonny Rollins' and pianist Cyrus Chestnut's albums were the best followed by bassist Rodney Whitaker and pianists Eric Reed and Orrin Evans.
In August, things have slowed down, which is OK. The Detroit Jazz Festival is around the corner. My friend jazz historian Jim Gallert asked me to interview pianist Randy Weston and saxophonist Billy Harper at the Jazz Talk Tent.
At first, I turned Jim down because I'm uncomfortable talking to crowds. I've interviewed many jazz musicians mostly one on one or via telephone. Jim is a salesman at heart, and he convinced me I'm the right man to conduct the interview.
The past three weeks, I've been researching Weston and Harper. I've talked to jazz legends before. In fact, I'm an old pro at it, having picked the brains of Wayne Shorter, Sonny Rollins, Horace Silver, Richard Davis and many others.
I bought Weston's autobiography "African Rhythms". It's taken me a week to get through it. Weston led an upstanding life and that doesn't make for riveting reading as Hampton Hawes', Miles Davis' and Art Pepper's autobiographies was. They led troubled lives.
Anyway, I got some useful information from Weston's book, particularly his musical partnership with trombonist Melba Liston which Weston likened to Duke Ellington and Billy Strayhorn's partnership.
I couldn't find a lot of information about Harper. I checked All Music, All About Jazz, Harper's official website and a few more online sources. All had the same basic biographical stuff so I won't have a ton of questions for him.
Weston and Harper put out a wonderful album in 2013 titled "Roots of the Blues".
I plan to make it the thrust of the interview. I want to know about their musical friendship and how it's grown over the years. They've been collaborating for decades. I'll warm up with that. Then I'll question them about memorable chunks of their musical history. That should eat up most of the 45 minutes I have to interview them.