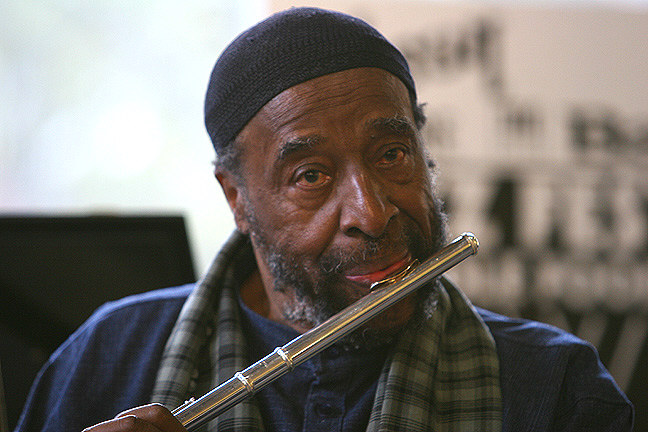 Yusef Lateef

At St. Matthew's & St. Joseph's Episcopal Church
in Detroit Saturday evening, saxophonist Yusef Lateef, 91, was honored by the Societie of the Culturally Concerned, a grassroots organization that honors Detroit jazz legends. The SOCC founded by the late jazz pianist Kenn Cox and his wife Barbara. Lateef, one of Detroit's most accomplished exports, grew up in the city's storied Black Bottom district. Before he left the city 50 years ago to expand his brand, playing with Charles Mingus and Julian "Cannonball" Adderly, Lateef left his footprints all over Detroit's jazz community.
Lateef started his recording career with Savoy in the late 50's, making some now collector's items Jazz for Thinkers, and Prayer to the East.
Lateef also made some choice albums for other big jazz labels Impulse, Prestige and Riverside. As his musical taste became more experimental, he formed his own label YAL.
Lateef earned commercial and national honors. He won a Grammy for Best New Age album. Two years ago, the National Endowment for the Arts named him Jazz Master, the most prestigious recognition given to a worldly jazz musician. But until Saturday evening his hometown never lavished him with praises or accolades.
St. Matthew's & St. Joseph's church was packed with many celebrated Detroit writers, musicians, artists, and longtime Lateef fans. Saxophonist Ernie Rogers, the master of ceremony, opened the two-hour program with recollections of Lateef during his Detroit days. Rogers talked about what a thoughtful and an unselfish man Lateef has always been. The co-authored of Lateef's autobiography The Gentle Giant, Herb Boyd, followed Rogers.
Boyd corrected a mistake in the program booklet given to the people as they entered the church. Boyd told the packed church that he didn't write The Gentle Giant. It was a collaboration, and Lateef lived and wrote every page.
Saxophonist Vincent Bowen, a regional jazz giant, escorted Lateef to the pulpit. There Lateef listened as proclamations issued by the Detroit City Council, Congressmen Hansen Clarke and John Conyers were read.
Lateef cried while expressing his gratitude to everybody who came out, giving special thanks to Matthew Rucker, the bandleader who gave Lateef his first job. God was the main focus of Lateef's remarks. He thanked the Creator for blessing him with the strength and ideas to make music for 60 decades.
"God is the giver of what makes man significant," Lateef said.
The Seekers of Truth Revolutionary Ensemble led by saxophonist Ralph "Buzzy" Jones who Lateef groomed, played Lateef's signature tunes Morning, A Spiritual, and Ching Miau. Actor Council Cargle and a fellow named John Handy recited Lateef's poetry. The highlight of the ceremony was
Jones inviting Lateef to join in., and Lateef obliged. He used Jones' flute, and called a blues number. For a 91-year-old, his chops were strong.