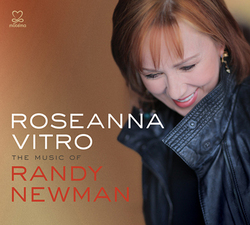 Roseanna Vitro debut album for Motema Records is a befitting homage to songwriter Randy Newman. Vitro calls the album The Music of Randy Newman. Vitro has a storyteller's style of singing. Many of Newman's songs have a literary quality, especially the 10 that Vitro sings. Newman is a celebrated songwriter.

Newman is an Oscar and a Grammy winner, and he's composed music for Hollywood blockbusters such as "Meet the Parents" and the three "Toy Story" movies.
Vitro strolls hand in hand with Newman's popular love jams Sail Away, Everytime It Rains, Feels Like Home, and Losing You. Some jazz singers of Vitro's elk screw up their albums by using an orchestra. An orchestra can overpower a singer, but Vitro avoids being overpowered by only adding to her rhythm section violinist Sara Caswell.
Caswell—on loan from Grammy winner Esperanza Spaulding's band—impacts each song she plays on the Music of Randy Newman. Caswell plays celestially as if angels are dancing inside her violin. Caswell goes with Vitro's voice like a silk pocket square with a pricy suit jacket.
Caswell also had the same impact on Spalding's album Chamber Music Society. Caswell is partly responsible for the allure of The Music of Randy Newman Songbook. Had Vitro decided against using Caswell this album would be less alluring.