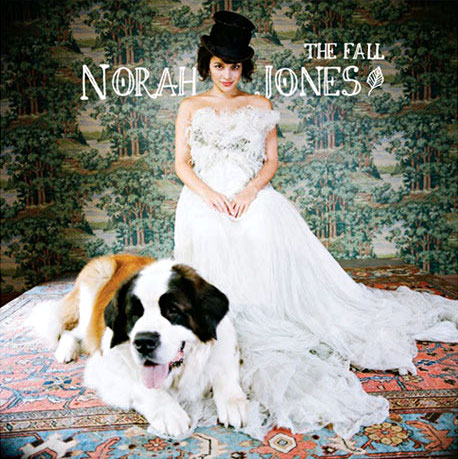 Norah, some jazz fans have been hard on you. Quick to point out your music is not jazz, and you're not a real jazz singer. I'm a big jazz fan, and I like your music a lot, particularly your new album
The Fall
, which I purchased Friday for half price. Before I comment on the album, I want to talk about why jazz fans put you down. Your contribution to Blue Note Records--which has just as many pop musicians as jazz musicians--has been remarkable, but under valued by your critics. Blue Note Records is no longer a boutique jazz label. Too many jazz fans have a hard time accepting that reality.
Blue Note was smart to sign you. (The move might've saved the company.) Your album
Come Away with Me
, for example, sold over 8 million copies. The follow up
Feels Like Home
was also successful. Profits from those recordings, I will bet, helped bankroll your label-mates Wynton Marsalis, Gary Bartz, Jaaon Moran, and Stefon Harris projects. Neither is platiumn selling recording artists. Norah, your success should be applauded. Jazz fans shouldn't dislike you because you don't fit their definition of what a real jazz musician is. Defending you is going to get me in hot water with my jazz purist friends, but somebody has to acknowledge your contribution to Blue Note Records.
Let me stop carrying on. Now I want to comment on your latest offering The Fall. It is a blues album. You spill your guts on throughout. Some of the songs such as
Even Though
,
You've Ruined Me
, and
I Wouldn't Need You
makes me sad, but that's a good thing. labeling you a blue woman or budding blues singer isn't off base. Writing touching and sad songs is your specialty. At times, you can also be quirky. Not many songwriters could write a love song for their pet. You did that on
Man of The Hour
. You make it appear that you're talking about a beau. I played the song twice before realizing you are singing about your dog. I loved Man of the Hour the most regardless. That was an unusual twist on a love song. Good job, Norah. You are a worthy musician. Maybe jazz fans will stop dogging you, and realize you're a good singer and a great songwriter.