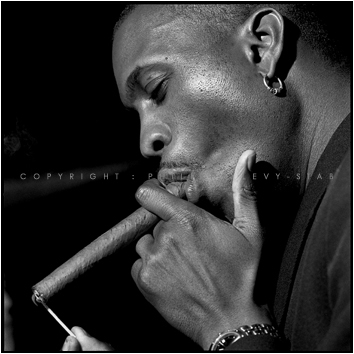 Jazz pianist Carlos McKinney is busy at work in his home studio in New Jersey remixing tracks for a new album for R&B vocalist Keyshia Coles. Later he plans to complete a track on the West Coast rapper the Game upcoming album. McKinney has more music project than he can handle nowadays. For example, In a few weeks, he's scheduled to tour India with fellow Detroiter alto saxophonist Kenny Garrett.
McKinney doesn't mind being overloaded with work. Whenever he feels like complaining, he thinks back ten years ago when he was struggling to make ends meet only making $ 50.00 per night at a dive in Harlem. That was a long time ago. He will never forget those lean times. Since then, McKinney has made a name for himself in the world of jazz and R&B.

His jazz resume' is extensive. The guys has played with the late drummer Tony Williams, Elvin Jones, and Louis Hayes. Playing behind these jazz gaints is how McKinney developed his percussive style of playing the piano. McKinney plays the instrument like it's a conga drum. He bangs the keys. His fingers bounces off the keys like they're stuffed with springs. When he finishes a solo his body is soaked with sweat like he's been through a cardiovascular workout. His aggressive style is evocative of McCoy Tyner. Maybe that is why Elvin Jones, who played with Tyner in John Coltrane's quartet, liked McKinney so much.
McKinney R&B credits are equally impressive. His has produced music for Patti Labelle, Babyface, Busta Rymes and Kelly Rowlands of Destiny Child. And he landed a production deal a few years ago with J Records that's run by music mogul Clive Davis.

McKinney grew up in a musical family. His mother was a singer. His uncles are the legendary bassist Raymond McKinney and pianist Harold McKinney. McKinney grandmother taught him to play the piano when he was only three-year-old. At age 11, McKinney got his first professional gig playing in his uncle Walter' s R&B band called, Identity. The group performed at cabarets dances. As a teenager, he was doing production with Techno music innovator Kevin Saunderson.

McKinney became interested in jazz his freshman year at Cass Technical High School. He formed a jazz band called Legacy with drummer Ali Jackson his brother trumpeter Khalil. Legacy was popular. They performed locally, toured Europe, and released an album titled "With You in Mind" .

"It got serious pretty fast. We started earning some money. In the 9th grade we were making money. We saved the money from all the weekend gigs that we did. We booked a studio. We booked a producer, and we did our own taped. We sold the tapes for ten dollars a pop. During the African-American Festival we would set up on the corner and sell the tapes out of our trunk. That' s how we made money. I make money to pay for his first of college," McKinney, 33, says.

In 1992, Legacy split. McKinney moved to New York to attend the New School for Social Research, and to ultimately become a big jazz star.

"If you can get out of Detroit knowing your music you can go anywhere I believed. When I first got to college they placed me on probation because I didn' t know enough standards. Legacy started off not really playing jazz. We were playing original tunes. We didn' t really get serious about playing jazz into about 1990. I graduated from school in 1991. So I spent a good year just learning the standard songbook. After that they reevaluated me then they put me in the band to represent the school. That was a big boost of confidence because I thought when I went to New York everybody and everything was going to be incredible," McKinney recalls.

In 1994, McKinney took a break from school to tour with trumpeter Wallace Roney. He thought the gig was going to last forever. In 1996, Roney broke up the band to go on the road with pianist Chick Corea.

"I was really pissed. I said: Man what am I going to do. I spent two years with you, and I can barely pay my bills. 'I made a commitment to be in your band. So what am I supposed to do now' "?

It was a tough transitional period. McKinney returned to Brooklyn where he searched for work. He played a gig in Harlem that only paid 50 bucks per night. The stage was set up in back of the club in the alley. That was depressing.
"That was the point where I realized two things: First of all I need other gig, and I had to get back into doing my R&B music and producing."

Returning to R&B and producing worked out. McKinney met Mtume, a music producer of the popular television urban cop drama New York Undercover.

McKinney says they clicked right away. They had the same musical background. Both had a jazz and R&B background. Mutwme hired McKinney to produce music for the show, which McKinney says led to doing production work for R&B artists.

McKinney fortune seemed to change overnight. In 1996, he got another big break. Legendary drummer Elvin Jones hired him to play with The Jazz Machine .

The first night that McKinney played with Jones McKinney wasn' t nervous, he says. He felt that he had been preparing for this moment his entire career. He had listened to the drummer s albums, he knew all his licks, and he had attended many of Jones' concerts. A bond developed between the two musicians the eight years that McKinney played with Jones. McKinney says Jone always looked out for him.

"Once we were playing with Wynton Marsalis. We' re playing the music of John Coltrane. Wynton and I never got along. He was always trying to turn me into Jelly Roll Morton. And I remember Elvin standing up for me. Wynton wanted Marcus Roberts to play the gig. And Elvin told him that Carlos is going to play this tour that I was his piano player. That was a memorable tour. I got to spend a lot of time with him," McKinney recalls.

Jones even knew that McKinney was moonlighting as Hip Hop and R&B record producer. Jones never discouraged him, but McKinney says the drummer teased him a lot.
"He would say that I was trying to be Puff Daddy. I thought it was funny that he even knew who Puff Daddy was."

McKinney was living a dream as a successful music producer, and jazz pianist. However, at times he' s felt conflicted.

"I felt like I was living a double life. I really felt uncomfortable until recently. R&B cats would look down at you if you played jazz. On the other end most jazz musicians looked down at hip hop saying that it wasn' t really music," McKinney says.

At time McKinney admits that he felt pressured to choose. Once while touring with the The Jazz Machine overseas McKinney was asked by a record company to return home to complete an album he was working on. McKinney had to learn how to navigate both worlds without one overshadowing the other.
"I felt like okay I really need to be here to make these records. It just really got busy for me on the production end. And the money was great. I made more selling one song than being on the road a whole year playing jazz".

McKinney has no plans to slow down. When he returns from overseas with Kenny Garrett, McKinney is going right back to his home studio to work on some new material for a new girl group that he's producing.